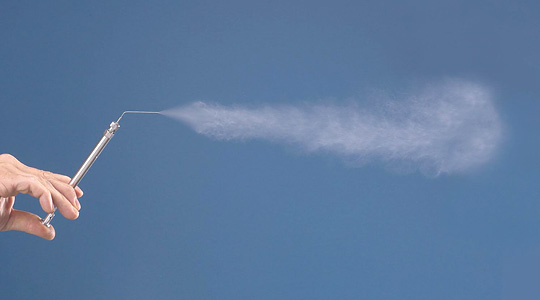 A new tool to clear blockages in the tip of your MicroSprayer® Aerosolizer Model IA-1C.
The Penn-Century MicroSprayer® Aerosolizer – Model IA-1C is a unique, air-free atomizer. It generates an aerosol when liquids, solutions or particle suspensions are pushed at high manual pressure through tiny patented aerosolizing components in the tip of the device.
To best maintain the device, it must be cleaned thoroughly after use, according our instructions. However, even with careful regular cleaning, at times, some test materials, or dirt or dust can partially or completely block the flow of liquid through the tip. Our standard instructions for cleaning or unblocking the device are usually sufficient to clear it. But if not, a blocked tip can result in costly delays and disruption during an experiment.
The High Pressure Reverse Cleaning Adapter – RCA-1C was developed by Penn-Century to clear the tip of a blocked or clogged MicroSprayer® Aerosolizer – Model IA-1C. It permits the user to take advantage of the high pressure generated by the FMJ-250 High Pressure Syringe to push solvents or hot water backwards through the MicroSprayer® – that is, in reverse direction from the tip to the hub. In most cases, when the correct procedure is followed, this process will loosen and force out whatever is blocking (clogging) the tip of the MicroSprayer® and return it to good working condition.