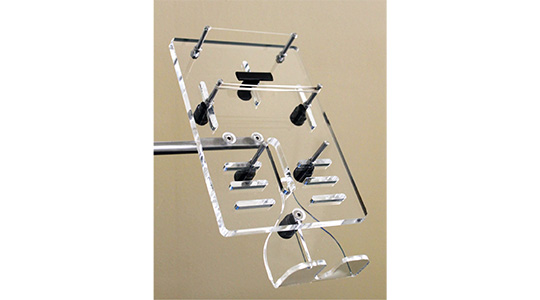 Intratracheal intubation in anesthetized rats can pose challenges due to variation in the animal's size and weight as they age and the difficulty of visualizing the epiglottis.
The Intubation Platform for Rat (IPR) by Penn-Century is a simple, durable, easy-to-use system. It is designed to support an anesthetized rat securely during intratracheal aerosol delivery or intubation procedures. Our solid, sturdy platform adjusts easily as animals grow and is ideal for heavier animals.
Features include:
Unique swiveling neck support to straighten and improve access to the trachea.
Sliding base to support heavier animals from below.
Adjustable posts to secure rats of various sizes and weights.
The platform can be attached to any standard laboratory clamp stand (not provided). Users can freely adjust the platform's angle and height to optimize it to their own experimental needs.
Platform: Solid Plexiglass®/Perspex® with stainless steel posts and Delrin® fittings.
Outer dimensions: 9 5/8″ x 5 7/8 x 3/8″ (15 x 22 x 6 cm)
Stainless steel support rod: 8″ (20 cm)
Accessories: Accessories include the nylon wire for suspending the animal, hex wrench, rubber bands, additional nylon wire and screws.
Cleaning: May be cleaned with ethanol or Clorox®/Clidox® and re-used.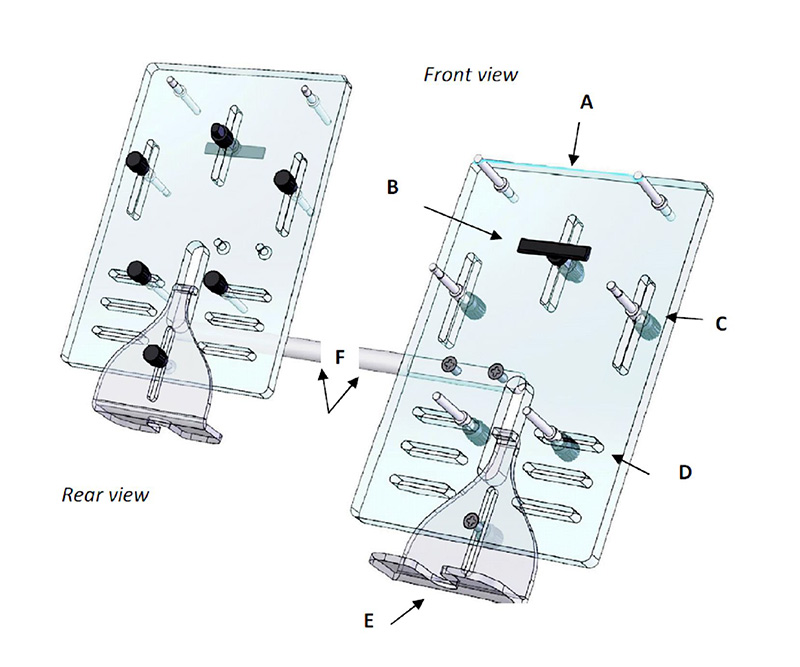 Upper stainless steel posts with plastic wire (provided) for suspending anesthetized animal by incisors.
Adjustable Delrin® Neck Support
Middle stainless steel guide posts move up and down. Attach the rubber band provided to the posts to secure animal across the chest.
Lower stainless steel side posts hold the animal securely in place and prevent lateral movement. Posts can be adjusted from side to side or repositioned in one of three slots for animals of varying heights and weights.
Adjustable sliding bottom support can be raised or lowered to better support anesthetized rats of different sizes.
The steel side support bar can be attached to any standard laboratory clamp stand. (NOTE: Clamp stand not included with the platform.)
All materials can be sterilized with standard methods.