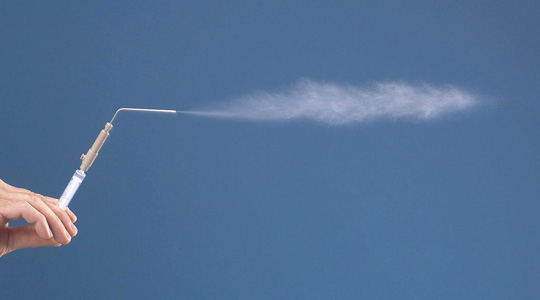 Model Number: RAT-PAK-DP
Penn-Century offers combination kits for easier, safer, quicker intratracheal aerosol administration in rats using our Dry Powder Insufflator™ for Rat (Model DP-4-R) and Air Pump (AP-1). Each kit comes with everything needed for use in rat, including our unique Small Animal Laryngoscope and Intubation Platform for Rat. A combination discount is included. Read each product's tab for details.
Includes:
Dry Powder Insufflator for Rat – Model DP-4-R
3 ml Air Syringe
Small Animal Laryngoscope for Rat
NEW! Intubation Platform for Rat
The
Dry Powder Insufflator™ – Model DP-4-R
is designed for rapid, targeted, intratracheal powder administration to rat. For pulmonary use, the very tip of the delivery tube must be positioned near but not touching the carina (first bifurcation) in an anesthetized animal. The device exerts a slight insufflating effect, permitting a precisely quantifiable dose of particles to penetrate deep into the lung. It may also be used for intranasal or
in vitro
applications. The device twists open at the center to reveal a sample chamber that can be filled manually with a small single dose (1 – 5 mg) of powdered material, protected from ambient air and moisture. The Model DP-4-R operates with a 3 ml disposable air syringe (provided) or, for more rapid administration of air with less force and hand motion, a Penn-Century Air Pump. Dry methods of cleaning the device are preferred.
Light, easy-to-use, hand-operated pulmonary drug delivery device
Produces a precisely measurable cloud of fine particles from the end of a hollow, stainless steel delivery tube
Can be used with powders of a wide range of sizes and characteristics from nanoparticles to large porous particles
Powders are unaffected by passage through the device
Widely tested with a range of pharmaceutical and bioactive compounds, as well as radiographic formulations.
Also useful for testing and development of dry powder formulations – time-of-flight, PK/PD, etc.
Widely used for occupational, environmental, bioterror and biohazard toxicology studies
Must be weighed before and after loading and after discharging for precise quantification of delivered dose
Sample chamber holds powder securely to prevent sample loss, moisture or contamination
Reusable and sterilizable. Made of virtually indestructible, heat and chemically resistant PEEK™ (polyetheretherketone) plastic.
Penn-Century's
Small Animal Laryngoscope Model LS-2-R
is specifically designed for use in rat. It provides bright, clear illumination for better visualization of the trachea and epiglottis. It makes intratracheal intubation and insertion of Penn-Century's MicroSprayer® Aerosolizers and Dry Powder Insufflators™ easier, quicker and safer. Each laryngoscope comes with a small, tapered stainless steel blade that is custom-made for use with a specific experimental animal. The blade assembly at the top of the handle is detachable. Additional blade assemblies may be purchased for use with animals of other sizes.
Long-lasting fiber-optic LED light source offering clear, bright illumination
Easy-grip handle in a curved ergonomic shape that rests in the palm of the hand
Handle is coated with non-slip green Santoprene™ rubber
Long-lasting illumination. Operates with a 3 volt lithium battery provided
Custom-made stainless steel blade tip for holding aside the animal's tongue
Both the handle and detachable blade assembly are sterilizable and autoclavable
Intratracheal intubation in anesthetized rats can pose challenges due to variation in the animal's size and weight as they age and the difficulty of visualizing the epiglottis. The
Intubation Platform for Rat (IPR)
by Penn-Century is a simple, durable, easy-to-use system. It is designed to support an anesthetized rat securely during intratracheal aerosol delivery or intubation procedures. Our solid, sturdy platform adjusts easily as animals grow and is ideal for heavier animals. Features include:
Unique swiveling neck support to straighten and improve access to the trachea.
Sliding base to support heavier animals from below.
Adjustable posts to secure rats of various sizes and weights.
The platform can be attached to any standard laboratory clamp stand (not provided). Users can freely adjust the platform's angle and height to optimize it to their own experimental needs.